Approach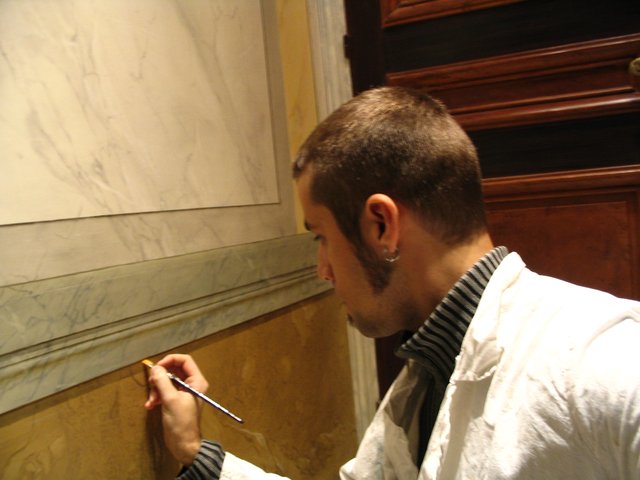 Christophe Ourdouillie Studio realizes all your painting projects. From the simplest, to the most elaborated. From the most uncluttered to the most baroque. From the most classical type to the most contemporary.
Our skills are the following : traditional painting, painted effects, patinas, woodgraining, faux marble, trompe-l'oeil, murals, ceilings, decorative patterns, gilding, painting restoration, portraits, and all specialized paint finishes.
Christophe Ourdouillie can intervene on specific requests, as a teacher, in very specialized classes, such as woodgraining, faux marble, and trompe-l'oeil.
Commitments:

Skills. Christophe Ourdouillie Studio is currently working with high-skilled craftsmen and artists, in accordance to quality standards.
Christophe Ourdouillie was awarded a silver medal at Van der Kelen Institute in Brussel, for the quality of his achievements. He has been working on many commissions everywhere in the world.
Quality. Christophe Ourdouillie uses the best painting materials, carefully selected, for your satisfaction.

Decorative guidance. Thanks to our experience, we'll be able to give you some decorative and artistic suggestions.

Confidence. On trustful relationships, as we work with our regular customers, we'll be able to bring you the best from our skilled team.
Creativity. With subtlety, and creativity, we will find this little extra that will give your residence, a true refined style.